Fitting Inle Lake into my travel plan was going to be a tight squeeze and it was. I had to be in Yangon for 6am on Monday for my flight to Laos. My first choice of getting there was by bus, but with only night departures I'd have to leave on the same day I got to the lake which didn't appeal after having no sleep the night before. The flight to Yangon was $120 and got me to the airport 12 hours earlier than my morning flight.
After a smooth flight from Yangon via Bangkok I arrived in Vientiane in the early afternoon. I made my way to a hostel that I'd found on the net claiming to be accessible. It wasn't. This wasn't going to be a big deal as I was only there for one night and if I decided to stay longer then I could always find somewhere new. The hostel was near the night market so I went for a wander to go and see what was on offer there which wasn't anything new. It was fairly standard tourist bit and pieces so after a quick look round and a pineapple smoothie I went back to the hostel for a game of pool and a beer. Chatting to some of the people there who had been around Laos for a couple of weeks I got the impression that Luang Prabang wasn't going to be worth a visit and to head straight down to Four Thousand Island instead.
Not wanting to spend too much time in Vientiane I decided to go to Buddha Park which was a tourist hotspot. There were some ancient looking statues that were impressive at first glance but the whole place was only set up in the 1950s and for me it suddenly lacked authenticity, like it was put there solely to draw the tourists in. Having said that, I really like the kind of statues and I did enjoy the hour or so I spent wandering round until the taxi driver was due to take us back. Afterwards I went looking at a few buildings whilst searching for somewhere that would change my leftover Myanmar Kyat to US dollars. My favourite was the Victory Gate of Vientiane which on an information placard described it as being designed on the Arc d'Triumph but looking like a concrete monster when you got close.
Later on that day I got on the overnight bus heading for Four Thousand Island in the South of Laos. For a bit of extra comfort I went for the sleeper bus, which was quite short and each double mattress was designed for two people to share. This could mean that you had to spoon with a stranger for the eight hour trip – thankfully I had the bed to myself. After a mini bus ride early on the next day we arrived at the docks that would take us to the island. This dock was about as far from accessible as could be and required some steep back wheel descent on a hill, getting pushed through impossibly thick sand and balancing on two planks of wood to get to the boat that would take me to the island.
I hadn't booked anywhere on Don Det and started going from one guest house to the next looking for somewhere to stay. After hearing that the sunset side of the island had great views I went for the appropriately named 'Sunset Hostel' for $8 a night, a little more expensive that some other places but it was a private bungalow that had a bathroom as well so I was fine with that. The sunset views from the balcony were fantastic and looked like something that you would see in a travel guide, I definitely made the right choice when I picked this hostel.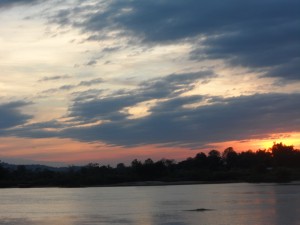 My first day on the island was very chilled out. I walked up and down the main road, found a nice Indian restaurant to eat at and spent some time chilling out on the hammock – that's the first time I've been on a hammock and it was pretty relaxing, that could have been down to the stunning view though.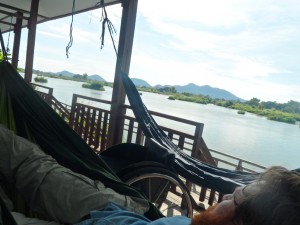 The islands didn't have the best roads to get around on but it was possible. I figured the best way to see the island would be on water, so there was then the choice of motor boat or kayak and kayaking sounded like more fun. The guy selling the tickets seemed a little bit concerned about the overland walk between the two waterfalls but I figured I could always ride with the kayaks on the tuktuk if it was that bad. The day out on the water was less than 20 quid so I decided to go for it.
Woke up early and headed to the bar where breakfast was included and had banana pancakes (Jack Johnson song playing in my head). The bar which sat on the river had a long wooden staircase at the side of the building that led to the water. I shuffled down the steps and with the kayak set in place onto that. It was an open top kayak and I didn't feel very stable in it from the outset. It was a double kayak so I was sat with the tour guide and my chair was tied down behind me. I crossed my legs instead of having them stretched out and this seemed to give me more stability. There was no back rest on this so I was still a little bit wobbly.
We set off down the Mekong River, weaving in and out of the little islands that were dotted around, going past the buffalo on the banks and snakes in the river. Although the lack of back support made things tough I felt I was doing alright. What they failed to mention when I booked this trip was that there were rapids on the river that we'd be passing through. Don't get me wrong, they were  nothing major but with how unstable I was on the kayak it made it slightly nervier going through them. Not wanting an early morning swim I stopped paddling and held on as we passed through the rapids.
The fact I was trying to be careful going through the rapids and avoid a swim didn't really matter as a couple of hundred metres downstream I dipped my paddle in too deep and the current dragged over the side of the kayak. This was a little bit worrying because we'd already been told that there were snakes in the river, so I was quite keen on getting back onto the boat. Getting back onto a kayak without using your legs is tough to say the least. This was a skill that I'd never had to learn before so it was a case of trial and error. Pushing down on the side of the kayak didn't work as I started to tip the entire thing over. I swam to one of the nearby islands, in the shallow water the river bank would support some of my weight and pushing off one kayak either side of me I was able to get back in.
It was a hot day and the water was warm so it would have all been a bit of fun except for the fact that my rucksack had come in the water with me and now I had a waterlogged camera and wallet – bit of bad luck but not the end of the world. We again set of and after a couple more rapids we arrived at our first stop. This was the point that person who sold me the ticket was concerned about. I lifted myself ten metres up an embankment with someone behind me giving me directions on how to avoid bird shit, fish heads and the head of a rat that was in my path.
We found ourselves in a small village and getting back in my chair I was eager to see this road that caused the concerns when I bought my ticket. We made our way to the first waterfall and the paths were a bit rough but solid which made pushing over them easy. The closer we got to the falls, the more uneven the ground became, but still fairly easy to get over balancing on my back wheels. When we left the first waterfall the surface of the path got a lot worse. It was covered in rocks varying in size making getting across very difficult.
There were two ways that I could move forward over terrain like this. The first was to move very slowly and let the casters bounce over each rock, this would make a bumpy ride and constantly pushing against rocks was going to be tiring. The second option and the one I went for was to remove the casters from the equation and balance on the back wheels as I moved forward. While this is still tough and requires a lot of concentration, it was going to be a smoother ride than the former.
What I didn't account for when I decided to go along this rocky path on my back wheels is just how long it was until we got back to the kayaks – it was over a kilometre easily. In the heat of early afternoon and having not eaten since breakfast I was starting to tire quickly, as the ground had gotten a tiny bit better for a rest thought that I'd give the back wheel balance a rest and push forward on all four wheels. It must have been another 50 metres before the cable ties holding my footplate in place snapped. This was going to be a problem. I had spare cable ties but they were back at my room. I asked someone to go ahead and find the tour guide and ask if he had any rope to do a temporary fix until I could get more permanent repairs done. In the meantime I decided to continue forwards, by going backwards.  I turned my chair around and started pushing backwards with my feet dragging along in front of me. This wasn't easy but worked for a couple of minutes when I got a length of rope to tie the footplate back in place. It wasn't a perfect repair in terms of placement but it was going to hold out until the end of the day and that would do for me.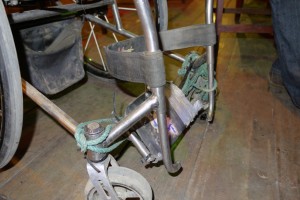 After going to watch dolphins near Cambodia Island we headed for lunch. Landing at a beach with a huge dune leading up to the barbeque area and tired from all the pushing, I opted for lunch in the kayak. It was a chicken roll and watermelon on the menu, which was good but I was too tired to eat. I decided to lay back, pull the farmers hat (that I borrowed from our tour guide) over my face for some shade and get some rest.
Today was really starting to take its toll with all the kayaking and rambling, by the time we finished lunch I was starting to feel it. The lake felt like it had turned to glue and every stroke was sapping more energy that I didn't have. Our final stop of the day was at the waterfall Khone Phapheng.
Docking on the beach where we would get on the truck to take us to the waterfall I was confronted with what can best be described as a cliff – the kayaks were getting carried up and I'd need to get up there to continue the journey. It was a sandy path so steep that as well as there being no way of pushing or lifting myself up, people weren't going to be able to push/lift the chair up as the sand didn't allow enough grip. Then some bright spark came up with the idea of me sitting on one of the kayaks and getting lifted up that way, the bigger perimeter of the kayak would mean that more people could help and it worked like a treat. I find that one great thing about travelling is that people always seem to go the extra mile to help you out when you need it.
Khone Phapheng waterfalls are the biggest in South East Asia and very impressive to see. Close to the Cambodian border in Laos they were a great goal to aim for as we headed down the Mekong River. There were a couple of tourists looking around and taking pictures when we arrived there but it still seemed like a very untouched place, with only some very basic viewing points to look on from.
Paddling back across the lake to end our day, we got to see an amazing sunset to finish what had been one of the most challenging days of travelling so far. Getting out of the kayak, it was just one flight of stairs to lift up then it really felt like it was over. Another great thing about the day was how well the group had got on, so we arranged to meet up later on for a couple of well-earned beers and a burger at my island favourite, the Reggae Bar.